Amsterdam, your next citytrip!
Canals, museums and atmosphere…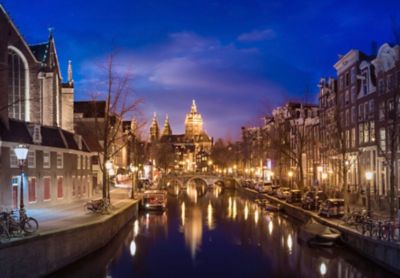 More information
Amsterdam is undoubtedly the most famous city of the Netherlands. Here is just a first taste of what the city has to offer...
CANALS
Stroll along the canals and get a glimpse of the wealthy Amsterdam from back then... Did you know that the
17th-century Canal Ring is even part of the UNESCO World Heritage List since 2010?
MUSEUMS
Amsterdam has no less than 75 museums! The Van Gogh Museum, the Stedelijk Museum and Anne Frank House should all be on your bucket list. Not to forget the biggest museum of the country: the Rijksmuseum. With over 200 rooms, the "National Museum" offers a unique overview of Dutch Art and History.
SHOPPING
Amsterdam is a great city for shopping. Kalverstraat, Leidsestraat and Hooftstraat are the most famous (mainstream) shopping streets. For more arty & vintage tastes, designer boutiques are to be found in the "9 streets", a "hip" neighborhood in the western part of the city center.
AND MUCH MORE...
Fine food & drinks lovers are in the right place: the city abounds with traditional pubs (brown coffees), international cuisine restaurants as well as with more exclusive spots.