Christmas Markets in Europe
Visit Europe's most fabulous cities and enjoy their Christmas markets this yuletide.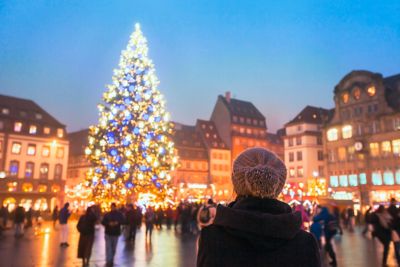 Must-see Christmas Markets in Europe
To immerse yourself in the festive spirit, there's no experience quite like strolling through a traditional Christmas market.
As you explore the charming stalls, finding the perfect gifts and checking off your holiday shopping list, you'll also have the opportunity to see a destination in a whole new light. The enchanting decorations breathe life into the local architecture, and the joyful celebrations infuse town centers with a special vibrancy. The abundance of handcrafted treasures and regional delights on display in the quaint chalets is truly a sight to behold. Savor the warm, spiced aroma of mulled wine, indulge in soft pretzels, savor gingerbread, and relish the taste of roasted chestnuts... These shared moments of enchantment create cherished memories for visitors of all ages.
Explore our suggestions for a weekend getaway in Europe, where you can experience the magic of some of the most beautiful and authentic Christmas markets.