Families at novotel
Kids stay free*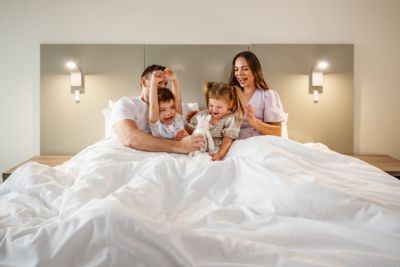 More information
Making family memories is important. At Novotel we're here to make travelling together easier than ever, so you can focus on enjoying your family break without worrying about a thing.  
Your children are our important guests, that's why accommodation and breakfast are free for up to two children under the age of 16. We have kids' entertainment areas in our hotels, and we'll even provide a special gift for them when they arrive! 
We have beautiful family-friendly Novotel hotels scattered across the UK, so whether you're planning a trip to London, Edinburgh, Manchester, or elsewhere, you can always find somewhere to call home.  
Family time is quality time, and your family hotel breaks with Novotel are sure to put smiles on even the smallest faces.